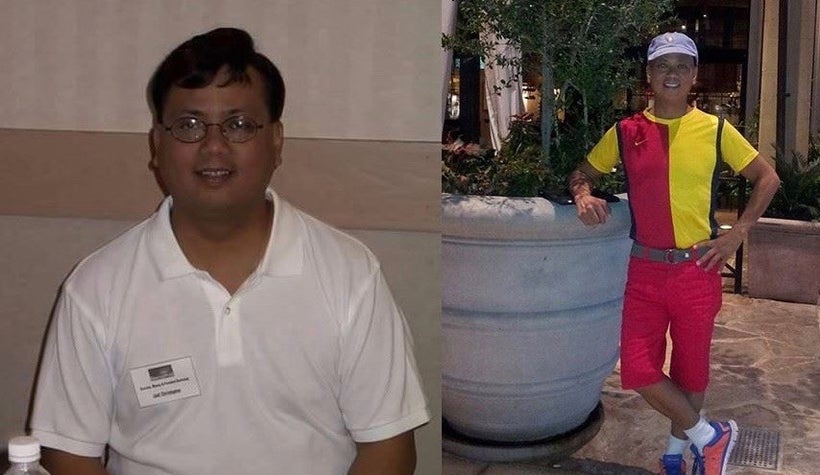 Seven years ago, at the young age of 43 years old, Joel was overweight and miserable beyond belief. He was going through an awful divorce, his business was plummeting towards failure and he was struggling with a transition towards his next career. Add on the fact that Joel was a diabetic with high blood pressure and Stage 4 Chronic Kidney Disease (a quarter of his kidney function was left), and you have the recipe for a total wreck! In Joel's mind, he was CONVINCED that there was absolutely no way out of the hell he was living in.
Joel knew he had to make a change there and then. While he wouldn't be able to magically make all his problems disappear, but he know he had to start somewhere. The pain he was suffering, both mentally and physically, was too much and he wanted to make a positive difference in his life somehow. With that, he challenged himself to do something that he didn't think was possible: Lose 30 pounds in 30 days, at a pound a day.
Sounds crazy, right? Trying to do something superficial like losing weight while going through a major life crisis? Joel thought so too, and yet he took his month-long goal very seriously. He ended up losing 29 pounds in 33 days, but it wasn't just the weight scale that changed. He was able to lower his high blood pressure, reverse his diabetes and overcome all of the stresses in his life.
But here's the catch Joel told me about: The transformation he experienced went beyond the physical. Forcing himself to undergo this weight loss challenge taught him some very valuable lessons about life that have since allowed him to achieve success beyond his wildest dreams. He was able to build two successful six-figure healthcare businesses that gave him the convenience of working on his own schedule and his own terms. Right now, he is in the process of writing several books, and next year, Joel will be launching masterminds and workshops that will allow people to learn how they can achieve the highest levels of health and wellness for themselves.
When I spoke to Joel, he told me that he was able to accomplish all of this in such a short period of time because of the LESSONS that came with the weight loss challenge. These lessons have allowed him to overcome any obstacle he's encountered in life and crush every challenge that has been presented before him. Joel doesn't want anybody else to suffer as he has, and so he shared some of those lessons with me:
1) Your physical health is the BEDROCK of whole-life success.
One of the most fascinating things about physical health is that many of the metaphors and stories can be applied towards succeeding in any other area of life. When you conquer a fitness challenge, you find yourself with the confidence, the momentum and the inspiration necessary to tackle on any other difficulty you are facing right now.
In fact, physical fitness is regarded as one of the 'keystone habits' by experts and scientists who research how humans acquire bad habits, destroy them and replace them with good habits. This means that once you establish diet and exercise as a habit, it becomes much easier to take on any other habit you want to develop.
When Joel was taking care of his health and changing his lifestyle through daily actions that eventually turned into habits and old-school discipline, he had the energy needed to live his life as he saw fit. Being in control of his body allowed him to be in control of so many other things that he previously thought could only be controlled by 'fate' or 'destiny'.
2) No matter how successful you get, you will ALWAYS have to overcome obstacles again and again
Three years after that initial weight loss challenge, Joel found himself having to do another "30 pounds in 30 days" challenge when he was going through a legal battle with his ex-wife for custody of his kids, and fighting a charge for a crime he did not commit. Despite having succeeded previously, he found himself with yet another major life crisis to overcome. But this time, he was prepared to do what was necessary in order to get through it all.
Joel managed to crush the challenge once again, and after an unbelievable amount of persistence and hard work, he managed to clear his name of the crime and win custody of his children. He was successful because he refused to let complacency and feelings of comfort get the best of him. Had he rested on his laurels and allowed his health to spiral out of control, Joel says he would have found himself right back where he started.
Even though he still has End State Renal Disease and an autoimmune chronic kidney disease, Joel lives a perfectly functional life that is full of abundance, love and joy. His major health challenge does not define who he is or what he's capable of achieving.
3) The pain of overcoming obstacles is temporary, but the pain of NOT overcoming obstacles is permanent
Jim Rohn said it best: "There are two pains you will have to go through in life: You can either choose the pain of self-discipline or you can choose the pain of regret." There is so much wisdom packed into that little quote, as it contains the hidden key to solving things like procrastination, laziness, fear, and any inhibitory emotion which prevents you from doing what you KNOW you need to do in order to succeed. It's all about feeling the fear and doing it anyways.
Joel has been through the pain of regret, and can personally tell you that it hurts so much worse than the pain which comes with working hard to overcome obstacles. It compounds over time – you won't feel it on day 1, but over time, it will gradually get worse to the point where it consumes your soul and your very being.
You shouldn't have to wait until the pain and the anguish become unbearable for you. You shouldn't need to have several major life crises like Joel did in order to motivate yourself to make the necessary change in your life. If he can believe in himself and turn his life around for the better, then it is absolutely possible for you to do the same for yourself. Starting right now.
You can live a fulfilling life and overcome any challenge, no matter what area of your life it belongs to, by making the firm decision to change your life, taking action right now, and developing the daily habits needed to determine your destiny. When you overcome any obstacle in your life, you become the one who has the power to determine your own fate. There is nothing more exhilarating than having control over your own life, and it is a gift that money can't buy.
Resource: https://www.huffingtonpost.com/entry/what-losing-29-pounds-in-33-days-taught-joel-chris_us_5a3c491ae4b0d86c803c7071